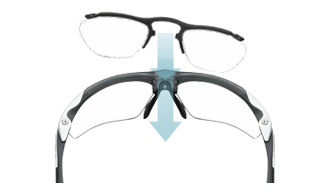 ---
Optical Clips - What they are and why we 

recommend them
The Optical clip is highly recommended for vision correction in sunglasses, utilising the clip allows full functional vision without compromising the aesthetics of your chosen sunglasses.
We can harness the same level of correction that your 'normal' everyday glasses give you, which means when you ride or run, you are safe in the knowledge that you will see clearly and with comfort.
Of course, this is in addition to using your sunglasses with a large range of interchangeable lenses, to effectively cut glare from the sun, increase visibility in low light and enhance specific wavelengths on the colour spectrum to provide the ultimate vision for your sport.
Prescriptions are not really limited with the clip either, we may have to consider other lens materials to give you the best aesthetics, if we do need to consider this, we will consult you fully and gain your agreement before we start any work on your new glasses. 
---